It was in early 2012 when I realized we needed to do more than staffing. While our business had begun a rapid expansion geographically and in revenues I knew we had to do more, to be more. I felt one of the best ways to accomplish this was to identify emerging technologies that we could establish practices for that drive our own and clients' innovation. As I reflect here at the start the year I wish to share a highlight of my journey in innovation and what I predict will have the greatest impact on the enterprise in 2019 and beyond.
Innovating in 2012
After I started my research in 2012 on where I wanted V-Soft to move in the emerging tech area I had a list of names and technologies. The list of company or platform names included some now high-level names like ServiceNow and MuleSoft along with some lesser known company names that are either no longer in business or absorbed by larger companies. On the list were also various technologies including blockchain, robotic process automation (RPA), deep learning, and artificial intelligence (AI) with an asterisk.
The Industry Trends
Gartner stands at the forefront of innovation leadership especially when it comes to the subject of technology and marketplace forces. Thanks to Gartner's Top 10 Strategic Technology trends for 2019 which I share the list below AI is #3 and a contributing factor on many on the list. I added to the list with runner-ups and note the stars indicated how many were mentioned on the Gartner list, Information Management's 10 top technology trends to watch in 2019, and 8 Top Technology Trends for 2019.
Autonomous things**
Augmented analytics
AI related development***
Digital twins
Empowered edge (edge computing)**
Immersive technologies
Blockchain***
Smart spaces
Digital ethics and privacy
Quantum computing**
Runner-Ups: Machine Learning, Internet of Things (IoT)**, Augmented Reality (AR)**, and 3D Printing.
AI to Dominate 2019
I will suggest that while there is a buzz on various emerging and hot technology platforms AI has arrived in 2019 where it will be leveraged in real-time within the enterprise and create true ROI as a result. It is true a few on the list like autonomous things, smart spaces, IoT, and even the empowered edge are used in some capacity today but true industry adoption of AI-centered tech initiatives are becoming mainstream in 2019. As you can see from the chart below we are in the midst of hyper AI growth initiatives.​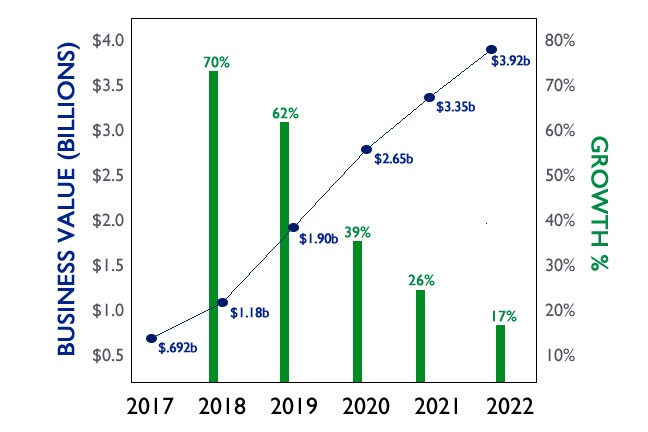 Forecast of Global AI-Derived Business Value (Billions of U.S. Dollars) (Gartner)
AI in Business Today
Artificial intelligence has become a part of our day-to-day lives many times in a single day and most of us aren't even aware of this. Take Apple, Amazon, and Google for example; in 2016 Apple announced they were taking their first steps in AI with image techniques and handwriting recognition. Amazon has benefited from AI algorithms to further expand its e-commerce empire by constructing differentiated and targeted purchase recommendations. Google, on the other hand, has applied artificial intelligence in countless products, from Google Translate, TensorFlow, and a library of products that simplify computer decisions by dividing the amounts of data it stores.
Gartner Says "By 2020, Artificial Intelligence Will Create More Jobs Than It Eliminates."
Industries Using AI
Finance
Healthcare
Marketing
Human Resources
Transportation
Agriculture
Customer Service
Energy
Retail
Despite there being a hesitation to AI by the mass-market, the reality is AI is already a part of the fabric of our world. Most every evolution of technology has been feared to take jobs and take over our world yet the truth is technology like AI is making us better at being humans and most importantly, helping us to live more fruitful lives.