Ready to learn Machine Learning? Browse courses like Robotics Application Machine Learning developed by industry thought leaders and Experfy in Harvard Innovation Lab.

As we discussed on the Q3 ISG Index call, the $450 million RPA software market is flush with cash and primed for consolidation. Here's what we said just five weeks ago:
"Another interesting option is consolidation within the sector itself. For example, just two weeks ago UI Path announced a $225 million round of funding, while in July Automation Anywhere announced $250 million in new funding, so the RPA leaders are quickly building up their war chests, which may be used to further consolidate their positions."
And this week, war chests got even bigger. Yesterday, Automation Anywhere announced a new $300 million investment from the SoftBank Vision Fund, and on Wednesday UI Path announced the closing of its Series C, adding another $40 million to a total round of $265 million.
And lost in this flurry of activity was some interesting M&A activity. Earlier this week Kofax, a company that entered the RPA market via the acquisition of Kapow Software in 2013, acquired Nuance's document imaging division. With this deal, Kofax adds image recognition capabilities, enabling it to extend the reach of basic RPA into processes that use unstructured data (like documents), while Nuance doubles down on its conversational AI strengths.
Time will tell whether these unicorn-level valuations are warranted. But one thing is clear: these companies (and their investors) see opportunity – and lots of it. Based on our recent Bot 3.0 Study, we're just at the very beginning of the enterprise automation wave. Most companies still have only about 20 to 30 processes automated with RPA, and most of these processes are mature and use structured data (like ERP systems and spreadsheets) as inputs and outputs.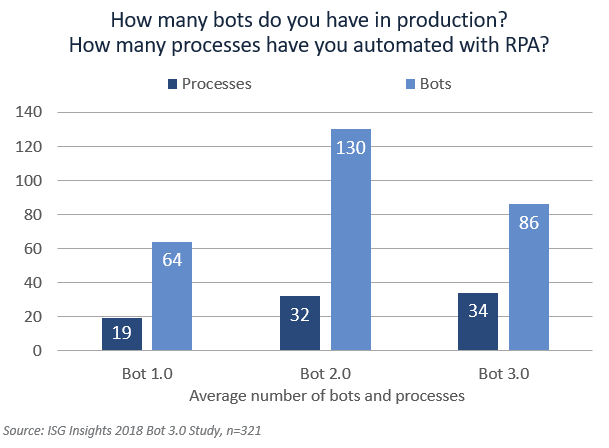 To be sure, big companies have gobs of "swivel chair" processes that require data to be moved between one enterprise system and another. But the number of these kinds of processes pale in comparison to the number of "shadow" processes – those that are not well defined and that use unstructured data like emails, PDFs, images or people's voices as inputs and outputs. It's these processes that will translate into a decade's worth of transformational work for companies – and exactly where the RPA vendors (and their investors) see the opportunity.
Still, we are seeing some bumps in the road as enterprises get started, as easy as that is with RPA. What's hard is scaling. Our research indicates that companies are quickly automating between 20 to 30 processes, but the pace of automation stalls. We call this the "RPA wall."
Hitting the wall can be due to many factors, but it's primarily due to lack of organizational change management, immature governance and a lack of awareness of advanced technology like cognitive computing. It's this last point where things get interesting as it relates to the RPA software vendors and the coming consolidation wave.
We found in our study that more advanced companies (we call them Bot 3.0 companies) have been able to break through the RPA wall. One of the more interesting findings is that Bot 3.0 companies tend to use more automation vendors than Bot 1.0 and 2.0 companies. Our hypothesis is that they have recognized that basic RPA can take them only so far, and they have started to tap into cognitive automation vendors to automate processes that use unstructured data like images, voice, text and/or require human-like judgment.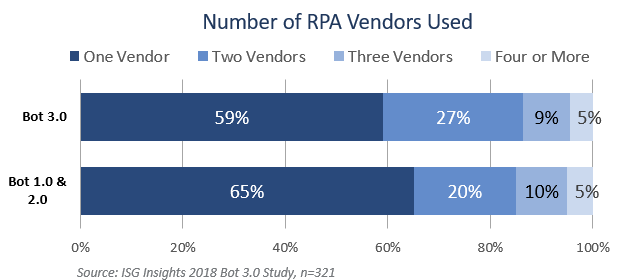 Clearly we're not yet talking about a huge difference here in vendor usage. But I think this is going to begin to change quickly as more "RPA capable" companies begin buying cognitive automation software to extend the reach of their existing RPA investments. And the big RPA vendors see this opportunity. But to address it, they need to do one of two things: 1) pour money into R&D to build out these machine-learning-based approaches to automation (e.g., "learning" where the PO number is on an invoice after it has seen 1,000 example invoices), or 2) they need to buy them, like Kofax just did with Nuance's Document Imaging Division.
So as more and more companies grow their bot capability from Bot 1.0 to 2.0 and finally to Bot 3.0, look for them to deploy more cognitive automation capability, especially in areas that are specific to their industry, like know-your-customer (KYC) initiatives in banking, pharmacovigilance in life sciences and merchandise management in retail. The RPA vendors want this knowledge work to be automated on their platforms, but so do an extensive array of small startups and even a number of big enterprise software vendors. So look for RPA war chests to continue to swell and be prepared for industry consolidation to really take off in 2019.