Robotic Process Automation is rapidly gaining popularity in the current era. It has become one of the most intensive technologies in the digital world. With the adoption by various industries, RPA has experienced robust growth. Thus, 2019 is coming up with the latest RPA trends which we're going to benefit businesses, enterprises, market, and individuals as well.
Eager to know what are the new RPA trends for 2019? Before that, let's have a look at the major RPA trends 2018, that include Smart Process Automation, Contribution to the big data and IoT, Integration with other tools, Increment in the adoption of RPA tools etc.
Upcoming RPA Trends in 2019
As per Grand View Research, the RPA market that was valued at $357.5 million globally is expected to grow to $8.75 billion by 2024 at a CAGR of 31%. It has been expected that the Automation will become one of the top technology trends in the coming years.
As per Gartner Research, Global RPA Software spending is expected to reach $2.4 billion in 2022. Also, by the end of the year 2022, 80% of the large and very large organizations will have deployed RPA in any form.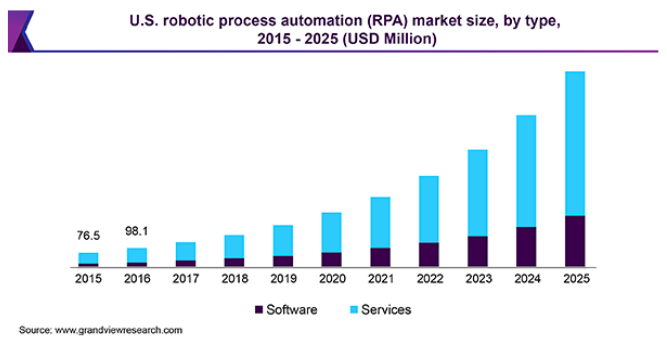 Here we've drafted the list of top 10 RPA trends for 2019. Just read on the article for the detailed information.
#1 Enhanced Deployment of RPA in Mainstream
For most of the companies, it is not easy to deploy RPA in the mainstream but if you talk about RPA predictions for 2019, Most of the companies will deploy RPA just to experience achievements achieved by their competitors and peers.
Few companies are now using RPA in the mainstream. According to a report on RPA predictions published by Capgemini, RPA is currently used by only 39 percent of businesses. Most of the businesses still hesitate to deploy RPA in mainstream especially due to security features. They still believe moving to the robotics and cloud computation are not apt for their businesses.
In the report, it is seen that 42 percent of the businesses are not ready to deploy RPA in the mainstream. But if we talk about RPA predictions for 2019, many of them will move to RPA in next year. This will result in more growth of their products as well. Also, virtually frontend and backend both processes will experience some downfall for sure.
#2 Increased Job Opportunities
In RPA trends 2018, it was seen that RPA will eliminate human responsibilities in terms of ownership. But in upcoming RPA trends, we can clearly mention that RPA will only diversify human responsibilities.
Most of the enterprises have not yet chosen RPA just because they believe it will purely eliminate human responsibilities. But it is not true as RPA is only there to support operations. We believe RPA will increase opportunities. It is just that roles will be changed. You can help businesses in their growth by becoming a business analyst. You can also learn new skills which are currently required in RPA. RPA has a huge scope in the future as the world is now transforming into the digital era.
Also, jobs created by RPA will also help candidates in different industries whether it's IT or civil. According to a study by an agency, 60,000 industrial robots were deployed in the period of 2010 and 2015. Surprisingly, the number of jobs created by this was 230,000. This shows that RPA solutions and humans will work together.
#3 Increased RPA Adoption
Few industries have already believed that Robotic Process Automation has long-term growth. In a report, 3.1 percent of the enterprises believe that deploying Robotic Process Automation can automate their businesses. If you talk about RPA trends, RPA will be the most common entity in Information Technology.
Also, you will see a huge increment in this deployment from 3.1 percent to 36.4 percent. Government is also helping enterprises to adapt to the robotic process automation solutions. RPA is responsible for the change in behaviors of government department and concerned persons.
In 2019, the adoption of RPA will be increased than 2018. It will have more impact on the businesses and enterprises; it will be used in more processes and ways than now. Considering the fact that RPA will have the more positive impact of their businesses, they will readily adopt RPA.
#4 RPA Integration with Other Tools and Technologies
The center-of-excellence (COE) approach to implementation is one of the most successful RPA initiatives. The center-of-excellence (COE) is the approach where new technology can be inserted into a technology which is new to the industry. If you see both organizationally and culturally, it is ensured that it can become extremely engrossed.
It provides institutional and technical knowledge. A center-of-excellence (COE) is responsible for practicing, distributing and classifying the innovations in RPA. You will see the efficient avatar of RPA integrated with other technologies in the digital space.
When used with the other automation tools, the RPA tool is seen more expanded. It may start the new age of digital era that will bring new innovations. RPA integrated with other automation tools will transform the human workforce into a more powerful digital workforce.
#5 Advancement of Artificial Intelligence and Machine Learning
In an exciting new cognitive era, RPA is the digital workforce of Artificial Intelligence and Machine Learning. Using these intelligent technologies, innovation leaders and business pioneers can develop best frameworks for everything from staffing to finance, and development to production.
Robotic Process Automation is helping businesses to save time, cost and employee productivity. The cognitive era is the next era of Robotic Process Automation. Enterprises know that RPA is useful for their businesses. Artificial Intelligence and Machine Learning both are the cognitive techniques which harness businesses very gently. Robotic Process Automation is useful in providing solutions to fuzzy logic, image and pattern recognition, and natural language voice interaction. You can create bots to repeat these activities.
In a report, it is mentioned that within four years, Robotic Process Automation combined with Artificial Intelligence is making an impact. Apart from that, 25 percent of the companies believe that Artificial Intelligence along with Robotic Process Automation will eventually change their need in operations.
#6 Better Employee Engagement and Customer Experience
Robotic process automation has solutions which are helpful in engagement especially if we talk about employee engagement. Employee engagement is defined as the survival. In businesses, employees are the faces of any organization. They take care of the businesses by providing support to customers in terms of providing solutions for technical support.
Eventually, it is the most important part of operations as every business wants their operations to become nimble. In this process, the employee engagement plays a very important role in every business; in improving which RPA plays an important role.
Companies nowadays are more focused on customer satisfaction, so they give handling customers and responding to their queries a higher priority. Digital technology has brought online query submission option to make it easy. RPA is one step ahead so bringing more options like automated chat to make businesses consistent with customers. It will result in improving customer experience and building brand loyalty
#7 Team of Humans and Attended Robots
As we are talking about RPA trends, it is compulsory to mention about the robots especially attended robots. Attended robots are defined as the robots which function with humans. Like they do tasks which involves humans activities too. Last year, attended robots has a ratio of 30 percent.
By the end of 2018, it has reached to be 50 percent. Companies are rapidly adapting to the robots which is a positive sign. They know that robots are useful in doing tasks which require more skill and focus. This will change the responsibilities of humans in any organization. You must know about the unattended robots too.
They don't include human activities with themselves. In RPA trends for 2019, we have included that you will see a huge increment in the adoption of attended robots. We can predict it to reach somewhere around 70 percent.
#8 Replacement of Outsourcing Jobs
There are a lot of companies which deals in business process outsourcing. But as per predictions for RPA, It is clearly seen that RPA will eventually replace outsourcing. As per a report, 60% of the Indians work in outsourcing organizations.
In RPA trends 2018, it was clearly mentioned that RPA would have a huge effect on Outsourcing. As a result of it, few companies have already moved to automation solutions which are creating new opportunities for the employees. Also through this, employees are learning new technologies and improving their skills.
In the next few years, RPA will have a great impact on the outsourcing jobs and the business processes. RPA will determine who should have a job and who shouldn't. But one thing is noticeable that besides the RPA will determine the reversal of outsourcing jobs, the outsourcing business is not going to end.
#9 Growth of AI, Big Data, and IoT
In the current scenario of RPA trends, Artificial Intelligence will be the most used technology in 2019 as the world is more focusing on innovations. Mostly if you talk about the robotic process automation, companies are moving towards solutions which are more effective than traditional solutions.
The percentage of Artificial Intelligence adoption is rapidly increasing day by day. Companies are deploying robots at various departments like production, packaging etc.
All the electrical appliances and smart devices are connected through IoT and generate a great volume of unstructured data i.e. big data. RPA robots can play an important role in analyzing this big data. It also plays an important role in IoT, thus streamlines the data processes and improves data management.
#10 Making Enterprises More Scalable
RPA has helped enterprises and employees to have a focus on value-added and creative activities. The human workforce now with Robotic Process Automation and other technologies have become more innovative.
Now the employees have become more intelligent with a higher level of thinking. With the RPA tools and technologies, the human workforce will be focused on higher-level tasks in the coming years. It will result in making them more productive, thus increasing the efficiency and quality of their services.
RPA along with AL has advanced the world of programming. An adequate RPA application offers a highly scalable and flexible workforce. Thus, RPA industry will continue to deliver useful applications in order to make enterprises more scalable.
Global RPA Industry Forecast 2018-2025
As per GrandView Research RPA Industry analysis, the adoption of Robotic Process Automation enables the businesses to realign the resources to have a focus on the customer and strategies. The implementation of RPA optimizes the business processes and facilitates better services, and brings huge opportunities across the industry, in turn. RPA brings opportunities for the reorganization of the administrative processes for the segments with the replacement of tedious tasks that are responsible for the information flow.
The global RPA market size was USD 357.5 Million in 2017 and is projected to grow at a CAGR of 31.1% over the period 2018-2025. BFSI application segment experienced the largest revenue in 2017 and it is expected to maintain the top position in the coming years. Also, the Pharma and Healthcare segment is expected to expand at the 35.7% CAGR over the forecast period.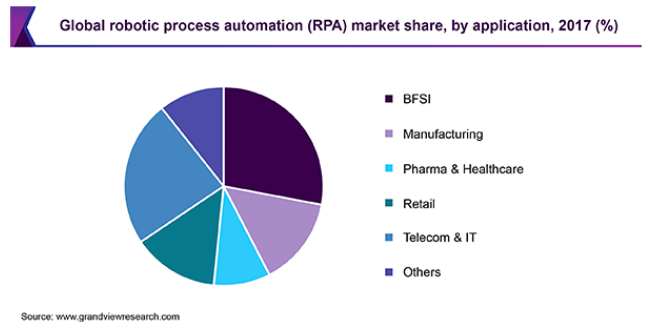 Gartner RPA Magic Quadrant 2018 has mentioned the criteria to choose RPA solutions providers. It is clearly stated that 64% of the businesses can consider automation in control and operations management, 60% of the businesses can consider automation in Proof of scalability and within larger automation deployments, and 50% can consider it to cognitive AI roadmap.
However, 42% of the enterprises can consider it to the existing relationship with the solution providers, 40% of the businesses can consider it to the effort of implementation and integration with existing technologies, and 38% of the companies can consider it to the ease of the bot design. While selecting an RPA solution provider, you must check Gartner RPA Magic Quadrant 2018.
As per Forrester RPA evaluations, Robotic Process Automation will transform the lives of more than 230 million workers which is eventually nine percent of the world's staff.
So, Are You Ready to Cope Up with the RPA Technology?
Robotic Process Automation is not a new concept now, it is generating a number of job opportunities by changing current occupations. As per a report by McKinsey, currently, there is less than five percent of jobs which are completely automated. Also, they have mentioned that about 60 percent of the jobs are moderately automated.
originally published on Whizlabs blog.