Ready to learn Marketing & Customer Analytics Training? Browse courses like  Increase Cross Selling and Upselling of Products and Services developed by industry thought leaders and Experfy in Harvard Innovation Lab.
"For large incumbents in 2018, digital strategy will stop being about trendy experiments and start being a matter of life and death" – The Economist
I knew that as my incumbent customers struggle to stay relevant, fearing the possibility of getting "Amazoned", these conversation pieces would be integral to both the success of my customers and my career. We're seeing it across every industry now, from healthcare (as in the most recent joint venture amongst titans JPMorgan, Berkshire Hathaway, and Amazon) to, of course, retail. As you see from the chart below, this old e-commerce disruption stuff is surging healthily right into 2018.
My biggest question is, who the heck wants to be a Toys R' Us kid, when they are filing for Chapter 11? Not me.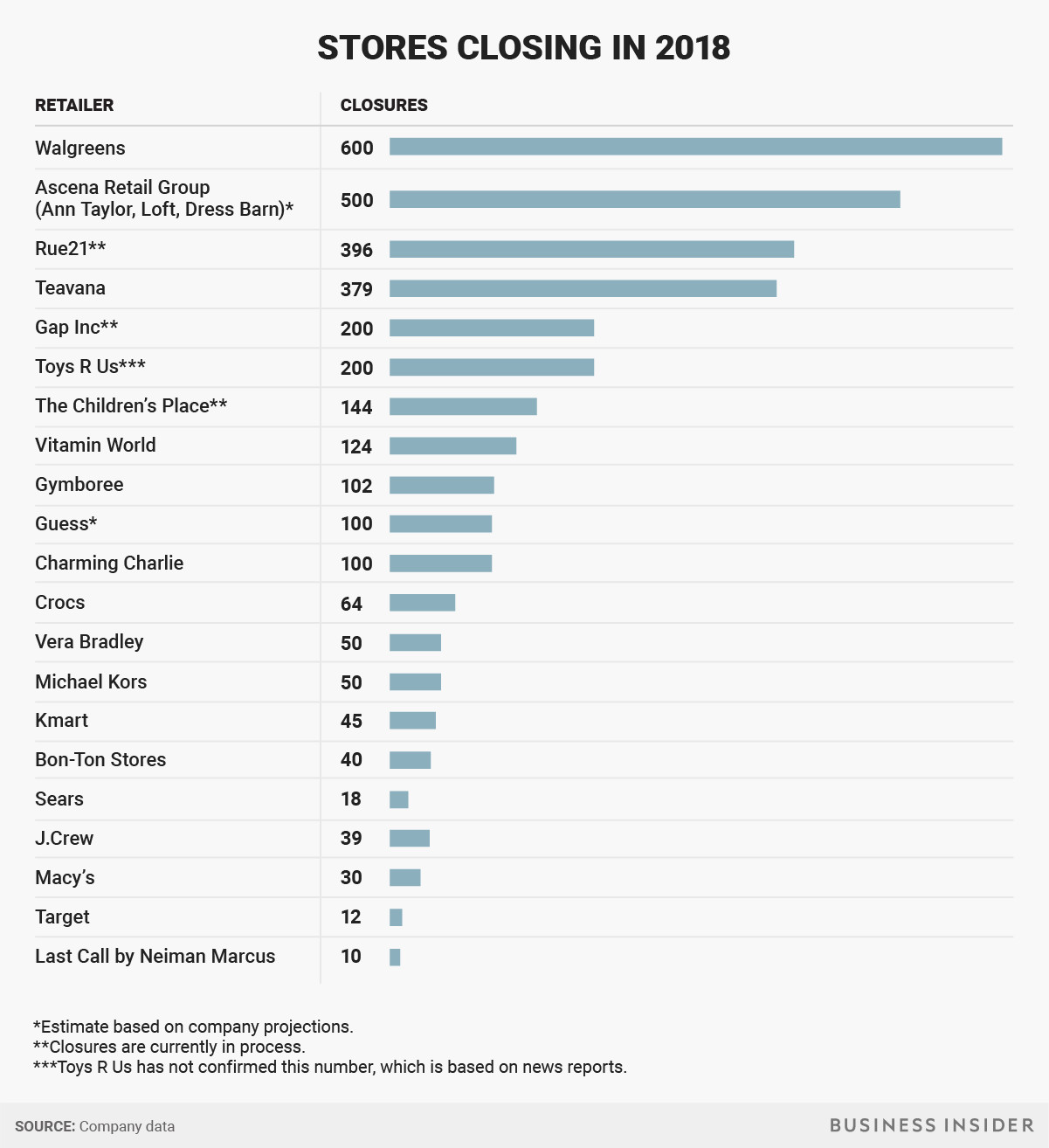 ALL businesses are in need of digitization, with the vast majority eagerly trying to to find a digitization strategy and trusted partners to help them get there quickly. I learned that everyone has a digital transformation story, how well-crafted and ideated is a different question. HOW you tell that story while understanding exceedingly changing industry environments, the data realities of the current condition today, and the human/machine capital needed to drive initiatives, is immensely valuable.
January's issue of the Economist gives some timely insight into this topic: "2018 will be the year that big, incumbent companies take on big tech"
Taking a sample of America's 20 most valuable non-tech firms, 14 now have a digital dimension to their strategies. Some blue-chip firms are mixing fashionable cocktails of e-commerce, big data and artificial-intelligence (AI) initiatives. But others are making comprehensive, multi-billion-dollar bets. General Motors is developing a suite of electric and autonomous vehicles. Walmart is in the midst of a massive online shopping push. Investors view such initiatives as central to these firms' prospects.
What is Digital Transformation Really?
Why should businesses even care about this story? As if Amazon didn't remind us enough, Clayton M. Christensen, a Harvard University professor famous for his "disruptive innovation theory", describes the need for incumbents to design business models that cater to managing the strategy development process for innovations, including things like: M&A activity, internal R&D, resource allocation, and costing structures (see below chart). As products and services development in an incumbent's lifecycle become more specialized and mature, they tend to start outpricing their broadest base of customers as they seek to create larger profits.
This allows disruptors to start playing in the game with commoditized offerings that the broader market is looking for, winning there, and then going after the more high end products where incumbents are supposedly thriving. Think about this massive "cord cutting" phenomena that has been taking place in the past several years, people are getting rid of mainstream cable TV as cheaper streaming services have taken over. Who (besides your parents), actually still have cable? Streaming services started out being far cheaper, but now as big players like Disney start to get into the game, we are going to see this move into the higher end market as the legacy businesses continue to get pushed out – even Netflix could stand to lose out in this new development.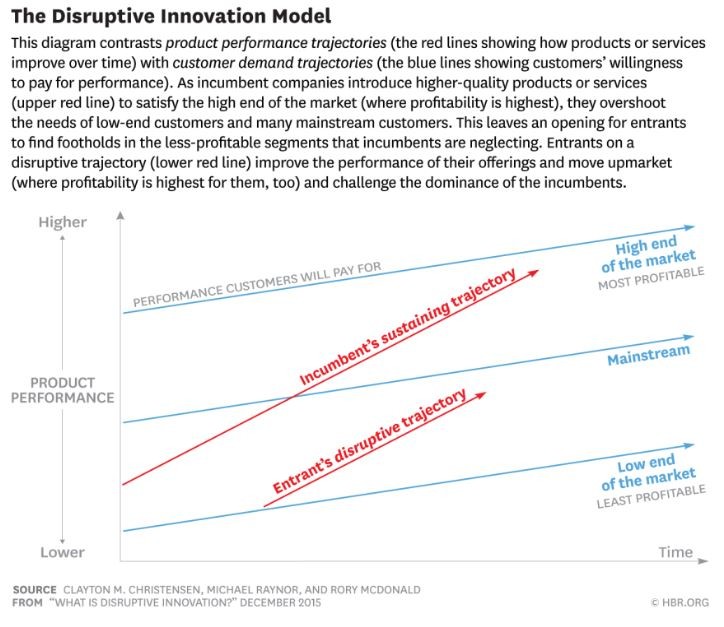 There is a lot to digest here, and there are so many data points that need to be considered in a digital strategy. In present day 2018 and beyond, digital transformation is encompassing all of these ideas discussed above, but really comes down to a guiding mindset that organizations must implore from its leadership at every level: leveraging your data estate to create innovation and disruption that empowers employees and customers.
Hear it from the experts
We all know that change is happening, and there are tons of complex theories and glamorous charts to help spark our imaginations. If we hear another Uber, Kodak, or Netflix disruption story, our heads may implode. So let's talk more about what successful businesses are actually doing right now today to digitally transform, and let's hear it from practitioners who are in the trenches and helping to commercialize real proofs of concept with real customers to unlock real value.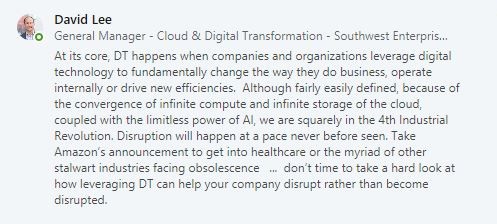 (reply comment on LinkedIn about digital transformation from David Lee at Microsoft, thank you David!)
Here are excerpts of how we're helping our customers with their digital strategy.
Dalan Rohrer describes how machine learning and image recognition can help law firms streamline case discovery and development
"One example is that I've got several law firms right now and law firms are traditionally very focused on billable hours and getting their lawyers in front of clients – law firms are even owned by the lawyers themselves, partners, and so in in the past they've been kind of distant a little bit and a little behind on technology, but we've been able to go into several law firms and start to help them see the potential of some of these advanced analytics techniques.
One example is when a lawyer takes a new matter or a new case, they go and they find millions and look through millions of different related cases to try and find precedent, all of the material that they need in order to go and do the best they can with this case and what we're introducing is hey bring all of that data which is what it is, all those documents, bring all that data into our cloud and let us look through it with a machine essentially and tag that data and find you the relevant documents so now you're not looking through a million documents, your looking through a hundred relevant documents and they're really excited about that. I mean, new lawyers will tell you that basically all they do is discovery, which is a fancy way of saying they're looking through these documents, so it's a huge cost reduction and it will also could improve the types of cases that they're building for their clients."
Kirby Repko dives into what digital transformation means to him, and how he's using AI powered chat bots to digitize a customers call centers
"When I think about digital transformation of course technology comes to mind, we're a technology company, but I'm reminded of the words of our CEO Satya Nadella. He says we really can't and we really shouldn't get excited about our technology, we should only get excited about the success that our customers have with our technology and that brings me back to the four pillars of digital transformation. We like to describe it as we work with our clients to 1) engage their customers 2) to empower their employees 3) to optimize their operations and 4) then transform their products.
So a couple examples, we were meeting with the customer recently and they were talking about their call center and how long the wait times were for that center, which was really far above the industry average, so we are embarking on a proof-of-concept, a POC, with them to utilize our chat-bot technology using the Microsoft bot framework to help reduce that call time, and also internally we like to practice what we preach at Microsoft and we have a project underway that is going to be implemented very soon and it's working with our call center and it's using very similar technology with chat-bots. What we're seeing is that it is improving the customer experience because there's less time spent on the phone with our call center, it's also improving employee morale because they're spending less time dealing with these calls, and we're also saving money"
Sam Hameed talks about how he's helping customers leverage video analytics to provide real time intelligence on accidents to optimize bus transportation systems
"I have a customer in the transportation industry and we're working with them very closely to redo their entire value chain from soup to nuts, for example we're doing predictive maintenance for their vending machines, one of the cool things we're working with them on now is something called video Analytics, so they have these public transportation buses, for example city buses that they manage, they want to be able to analyze real time when an accident happens so they can reroute the traffic to make sure that they can meet with the SLA's that they have for their customers and that's a huge thing because doing real-time traffic information as it happens for a busy city network would be something that would save them millions of dollars over just 5 years"
The time for digitization is now, and not making this a core part of your business's strategy in 2018 is not just dangerous, it is fatal. The good news is, there are a lot of great partners out there to help you along, picking the right one is just another part of your Digital Transformation Story.