The new book "Cyber Minds" offers insights on cybersecurity perspectives and recommendations across the cloud, data, AI, blockchain and IoT. The interviews make this book a must read for cyber and technology pros.
Shira Rubinoff is the president and co-founder of Prime Tech Partners, which is a unique incubator in NYC. She is also the president of SecureMySocial, which warns people of social media problems in real time.
In Shira's new book Cyber Minds, we see a unique mix of cutting-edge perspectives on blockchain and where it is going, insights on several hot technologies like AI and the Internet of Things (IoT) as well as solid cybersecurity advice for technology and business leaders.
Cutting right to the core, this book offers the best practical content I have seen regarding blockchain's potential, future and cybersecurity opportunities and drawbacks. The materials on blockchain, which includes interviews with thought leaders in the area, are simply ground-breaking.
Here's an excerpt from page 52 regarding blockchain:
"If you look into the financial services space, we've blueprinted the financial architecture and sort of overlaid it with the crypto industry. When you look at that, you realize that within five year, something amazing has been built. We've got exchanges, wallets, mining, interfaces, and so on. It's all moving towards institutional grade infrastructure.
Logistics is another example. In the past few weeks, we've heard the news of the biggest competitors in logistics coming together. I believe it was DHL, UPS, and FedEx coming together to think about how they can use blockchain to reduce and merge the burden of governance in the system. We'll get more efficient Internet safety from that.
Blockchain is being used by farmers for cattle feeding and in Switzerland, it's starting to be used in the watch industry and the butter industry among others. …"
Here's one other excerpt that I like from page 60 (quoting Sally Eaves) on the leading blockchain sectors:
"Yes, I would say two sectors (are leading) – financial services and supply chain. We are going to see more development in both, but I would love to showcase a sector outside of this too: healthcare.
I am seeing a lot of research and development focused on the 'marriage' of AI and blockchain technologies. As an example, we have opportunity to use blockchain as a method of security for our DNA data, negating fears of it being misused – while AI can enable rich insights to be anonymously extracted from it. …"
Input from Experts
This book gets five stars from me for the blockchain material alone, but it also offers interviews and recommendations on cloud security, IoT, artificial intelligence (AI) and much more. From my perspective, the advice offered from these top global leaders is excellent:
General Gregory Touhill, former Federal Chief Information Security Officer of the United States
Kevin L. Jackson, CEO and Founder, GovCloud
Mark Lynd, Digital Business Leader, NETSYNC
Joseph Steinberg, Internet Security advisor and thought leader
Jim Reavis, Co-Founder and CEO, Cloud Security Alliance
Dr. Tom Kellerman, Chief Cybersecurity Officer for Carbon Black Inc and Vice Chair of Strategic Cyber Ventures Board
Mary Ann Davidson, Chief Security Officer, Oracle
Dr. Sally Eaves, Emergent Technology CTO, Global Strategy Advisor – Blockchain AI FinTech, Social Impact award winner, keynote speaker and author
Dr. Guenther Dobrauz, Partner with PwC in Zurich and Leader of PwC Legal Switzerland
Barmak Meftah, President, AT&T Cybersecurity
Cleve Adams, CEO, Site 1001 (AI and big data based smart building company)
Ann Johnson, Corporate Vice President – Cybersecurity Solutions Group, Microsoft
Barbara Humpton, CEO, Siemens USA
Topics Covered in Book Cyber Minds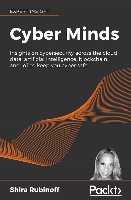 Here's an overview of the topics covered in the book:
Integrating Humans and Technology – Four Steps to Cyber Hygiene
How Risky Behavior Leads to Data Breaches
Blockchain – The Unwritten Chapter on Cybersecurity
Cybersecurity in the Cloud – What You Need to Know
The World's Biggest Data Breaches – Proactive and Reactive Approaches
Trends in Cybersecurity
Staying Cybersecure in the IoT Revolution
Cyberwars – Bringing Military Lessons to Modern Information Security
Can Artificial Intelligence (AI) be Trusted to Run Cybersecurity?
Conclusion
I also like the straightforward and easy-to-understand steps that Ms. Rubinoff uses to describe cyberhygiene, and those sections in the beginning and ending serve as a primer for readers who have less experience and insight into cybersecurity challenges. The workforce development strategies include:
Continuous training
Global awareness
Updated security and patching
Zero trust
After giving you these guidelines, Shira warns about the most common behaviors that could lead to a data breach and the psychology behind them.
This YouTube video show you Ms. Rubinoff's excellent speaking skills and abilities in communication on technical topics.
Final Thoughts
The interviews and insights offered in this book make it an excellent choice for technology, security and business leaders to learn the latest approaches and thinking on cybersecurity on a range of hot tech topics. I find the insights and interviews discussing topics like blockchain and cloud computing to be very insightful and different.
I have no hesitation in strongly recommending this book and giving it 5 stars.
Original article.in govtech.com.