Digital passports mean less immigration staff   Image: REUTERS
The narrative around the increased adoption of AI in the workplace has been clear for some time – AI will replace masses of jobs but also create many others.
That could happen in 1 of 2 ways. Either younger workers move into the new jobs, consigning older workers to the scrapheap. Or those existing workers can be reskilled.
As world leaders gather at the World Economic Forum's Annual Meeting in Davos, they are discussing how to make sure that the next wave of globalization doesn't leave anyone behind.
To achieve that goal, reskilling will need to be deliberately and proactively pursued.
To help encourage this, the World Economic Forum has released its latest Towards a Reskilling Revolution report which aims to start a conversation about who will pay for this vital reskilling.
The report's conclusion is encouraging. It found that 95% of the 1.4 million US workers who are expected to be displaced in the next decade can be transitioned to new positions with similar skills and higher wages.
But the total cost of reskilling all these workers is $34 billion – an average of $24,000 per displaced worker.
So who will pick up that bill?
Counting the cost
One of the barriers to adopting a reskilling programme to date is that it has been difficult to assess the cost benefits.
Data entry inputters could be replaced by automation technicians   Image: US Bureau of Labor Statistics/Future of Jobs Report 2018
Businesses need to weigh up the expenditure of redundancy pay and the cost of recruiting, along with the loss of productivity during the retraining period and the impact on staff motivation of any job losses.
For the government, the cost of not reskilling someone must be weighed against welfare payments, the missed opportunities of tax revenue and the wider societal implications of a loss of wellbeing.
The report develops a model to weigh up these costs. The model shows that, with an investment of $19.9 billion, the US government could reskill 77% of workers with a positive cost-benefit balance.
When it comes to the private sector, an overall investment of $4.7 billion could reskill 25% of all workers in disrupted jobs with a positive cost benefit balance.
And – if public and private sectors worked together to ensure economies of scale and multi-stakeholder initiatives, those figures could be improved even further.
"The question of who pays for the stranded workers and for the upskilling needed across economies is becoming urgent," says Saadia Zahidi, Managing Director of the World Economic Forum and Head of the Centre for the New Economy and Society.
"In our view, a combination of three investment options needs to be applied: companies working with each other to lower costs; governments and taxpayers taking on the cost as an important societal investment; and governments and business working together."
Taking the plunge
Some work is already being done in this area.
For example, Walmart has launched an Academy and has retrained 720,000 employees in advanced retail skills, leadership and change management over a two year period.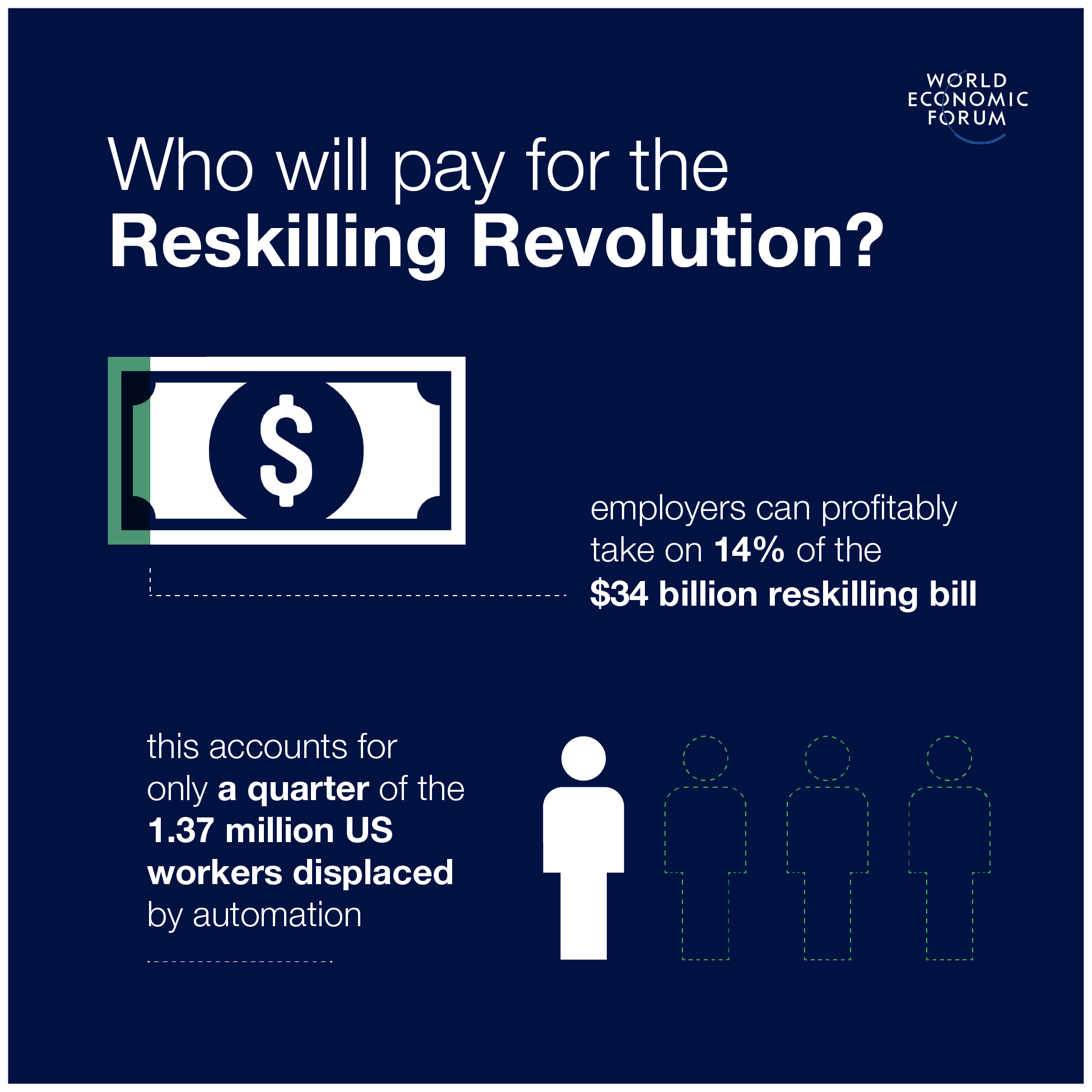 Image: World Economic Forum
L'Oréal has empowered 1,000 executives to develop digital road maps for their offices and regions, creating a more open, innovative and agile culture.
And the Lloyds Bank Group has committed to delivering an additional 4.4 million hours of learning for employees to help them grapple with agile project management and artificial intelligence.
As individual companies establish such programs, and the cost-benefits of reskilling workers become more widely understood, it is hoped that bigger reskilling projects can be rolled out across sectors, making the whole process more efficient.
Appeared in World Economic Forum.