Ready to learn Internet of Things? Browse IoT Training and Certification courses developed by industry thought leaders and Experfy in Harvard Innovation Lab.
Recognizing and communicating the business value of IoT to business leadership is the primary step towards timely and effective implementation of the Internet of Things in any business.
IoT is rapidly emerging as the next giant technological leap towards global integration and interconnectivity. Combining the expansive geographic reach of Internet with the pervasiveness of everyday objects makes the Internet of Things a truly global network, where everything can communicate with everything else. The applications of this technology, or rather a phenomenon, though not fully realized, are already emerging everywhere around us. From IoT enabled cars by Tesla and General Motors, to smart cities being developed in a number of countries, a majority of the general public has witnessed the wonders of IoT, and so have the industry leaders. On the other hand companies preparing for the future, like Google, Samsung, and Amazon, are already aware of the business value of IoT. And now it's your turn too! Here are the three substantial business benefits that your company can realize if you leverage the power of IoT: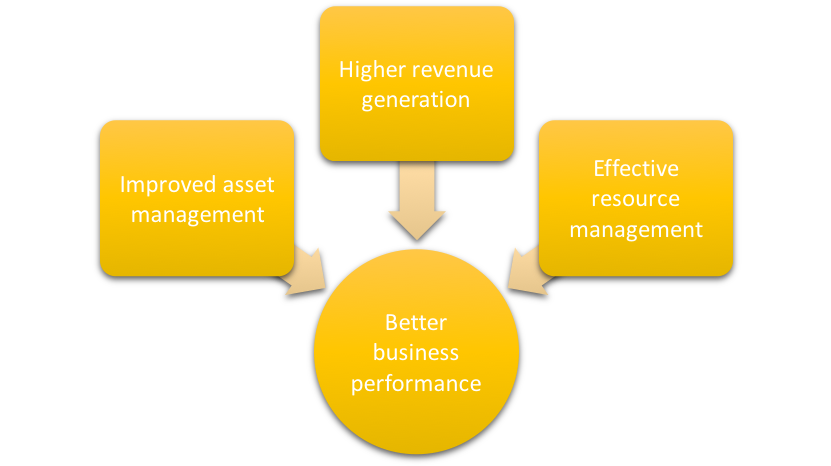 IMPROVED ASSET MANAGEMENT
Making your organization's assets, such as equipment and vehicles, part of an IoT network that continually tracks it's health and performance, will allow better maintenance of the assets. In addition to monitoring health, an IoT enabled system can also regulate process parameters to avoid fatal breakdowns and perform regular system diagnostics. This enables easier and less costly repairs. IoT managed equipment will last longer, perform better,,and experience minimal downtime. The performance monitoring will also track the utilization of the equipment and help make better scheduling decisions to extract maximum value out of equipment lifecycle.
HIGH REVENUE GENERATION
Not only can IoT indirectly boost your revenues, it can also directly impact the value created by your business. Providing highly personalized services and recommendations to customers, based on the data collected from them, increases the perceived value of the service. Enabling you to flexibly price the products base is another way IoT delivers business value on supply and demand data that is continuously generated. Converting the data collected via IoT to insights and selling it off as syndicated data to interested parties could also directly monetize valuable market data.
EFFECTIVE RESOURCE MANAGEMENT
Management of all types of resources – material, energy, and human – can be managed in a highly effective manner with the help of IoT enabled real-time market and process monitoring. An IoT enabled supply chain allows complete transparency throughout the chain, allowing individual businesses to make purchase and schedule decisions based on demand down the line. IoT's sensing and decision-making capability can also allow you to regulate power consumption based on usage. This can make a significant difference in considerably large organizations.
There is no doubt regarding the imminence, potential impact, and business value of IoT. However, the biggest challenge for the execution of IoT enabled business processes is the lack of compatibility with the existing IT infrastructure. Another big challenge is the disruptive and novel nature of the IoT technology that makes planning around it complex and uncertain. Most professionals are still trying to comprehend the technology completely. Thus, it is imperative for CIOs and other technology leaders to bring IoT onboard, and to do so early enough to gain a definitive advantage over the global market.