Ready to learn Internet of Things? Browse courses like Internet of Things (IoT) Training developed by industry thought leaders and Experfy in Harvard Innovation Lab.
You can't get to the "What" and the "Why" by focusing on the "How"
In the gold rush to "monetize" IOT, organizations are frantically installing sensors on everything that moves (and some things that should not move), hoping that someone in the business will figure out a way to get financial value out of the resulting data[1]. Yep, saw this approach (and am still seeing this approach) with Big Data…and Business Intelligence…and Data Warehousing. Heck, this approach happens so often that it now has an official name – the "Field of Dreams" approach:
"Build it (or in this case, capture it) and they (meaning business users and the resulting business value) will come."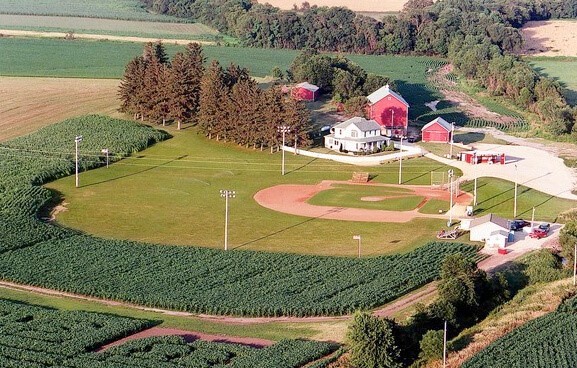 Figure 1: "Field of Dreams," a fantasy/drama was filmed in 1989 in Dubuque County, Iowa.
Great movie. Unfortunately, it's not really much of a business strategy.
So while we have an amazing compilation of technologies, sensors, gateways, connected devices and such for capturing data, understanding ahead of time what you are doing to do with that data – and why – is important because it frames what technologies, architectures, data, analytics and applications the organization is going to need in order to "monetize" IOT.
So before you jump into the IOT pond, let's make sure that there are no logs, boulders or sea monsters waiting for you. Let's start our IOT journey by first creating an "IOT Business Strategy." And to create this IOT business strategy, you'll not only want to identify the business use cases, but you'll also want to validate and prioritize those use cases because not all use cases are created equally.
By the way, consider this your IOT "CLM" insurance policy (you may have to look that one up).
Step 1: Identify Use Cases
Start your IOT business strategy by interviewing and conducting facilitation workshops with business leadership to identify the potential IOT use cases. If possible, tie those use cases back to the organization's key business initiatives if you want your IOT business strategy to provide the desired financial impact.
NOTE: for this example, the business initiative is to "increase same store sales by 7%" which is worth ~$191M annually. The business initiative is comprised of a number of use cases (or clusters of decisions) including:
Improve marketing campaign effectiveness
Increase store traffic via customer loyalty program
Increase store traffic via local events marketing
Reduce customer churn
Improve product cross-sell / up-sell
Increase customer advocacy and likelihood-to-recommend
Improve new product introduction effectiveness
Increase supplier quality and reliability effectiveness
Create personalized products
Capture (document) a succinct description of each use case including business (financial) potential, potential impact on the organization's key financial drivers, implementation risks and a rough estimate of the financial value of the use case over the next 12 to 18 months (see Figure 2).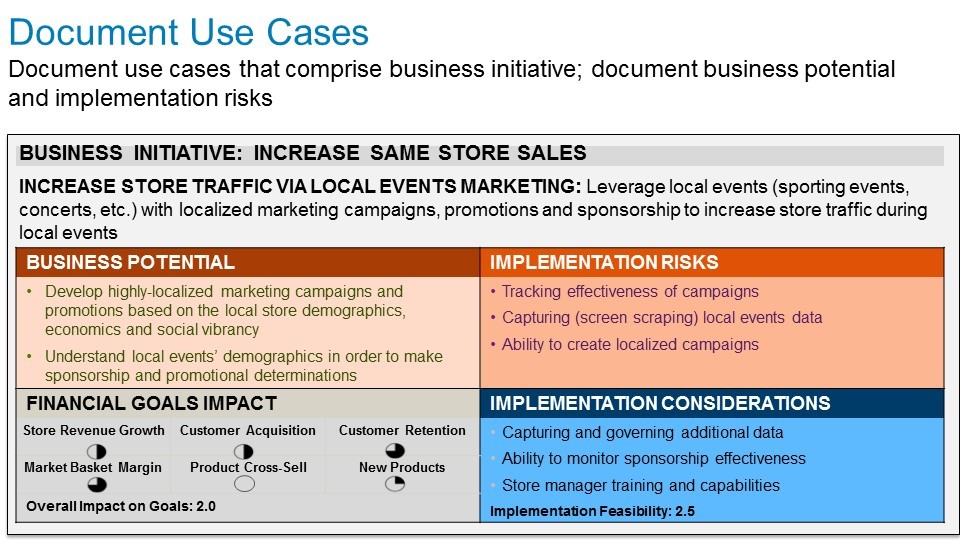 Figure 2: Use Case Description
Summarize the use case on a single slide (though in reality you'll likely have backup slides that contain more information including stakeholder quotes and support for the details on the potential financial and business impact).
Use Case Identification Checklist:
Have you identified the key business decisions that comprise the use case?
Have you captured the use case's business impact and ramifications upon the organization's key financial goals?
Have you captured the use case risks and potential impediments to success?
Have you estimated the financial value of the use case?
Step 2: Validate Use Cases
Once you have identified the use cases that comprise your IOT business strategy, next you need to corroborate the use case details with the business stakeholders. One way to help validate the use cases is to create a Persona for each business stakeholder who either impacts or is impacted by the use case (see Figure 3).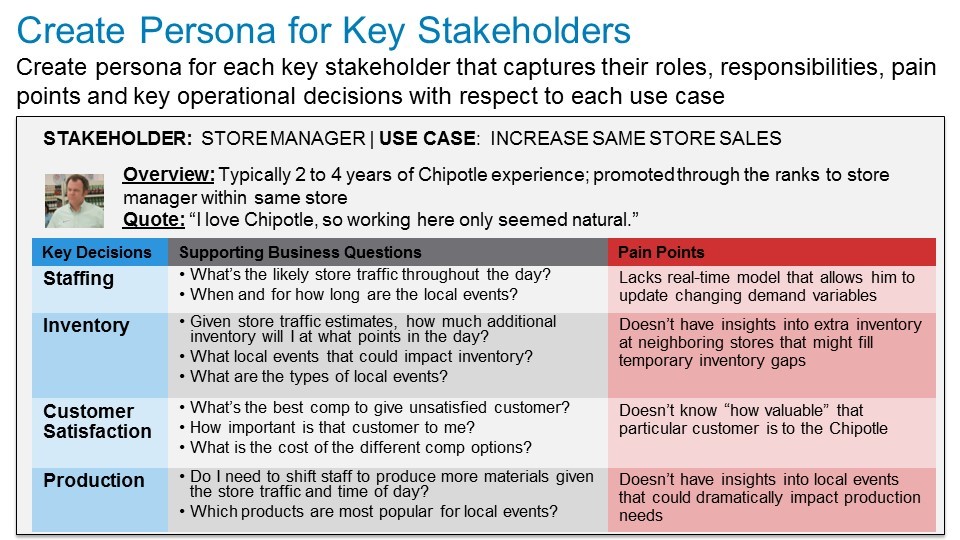 Figure 3: Key Stakeholder Personas
Personas are a very effective way of making the key stakeholders "come to life" for the development and data science teams; it creates empathy for the stakeholder's job and the challenges they face in doing their jobs.
This is also an opportunity to apply some "Design Thinking" techniques to further validate that the use case description and business impact. One such tool is the "Opportunity Report" (see Figure 4).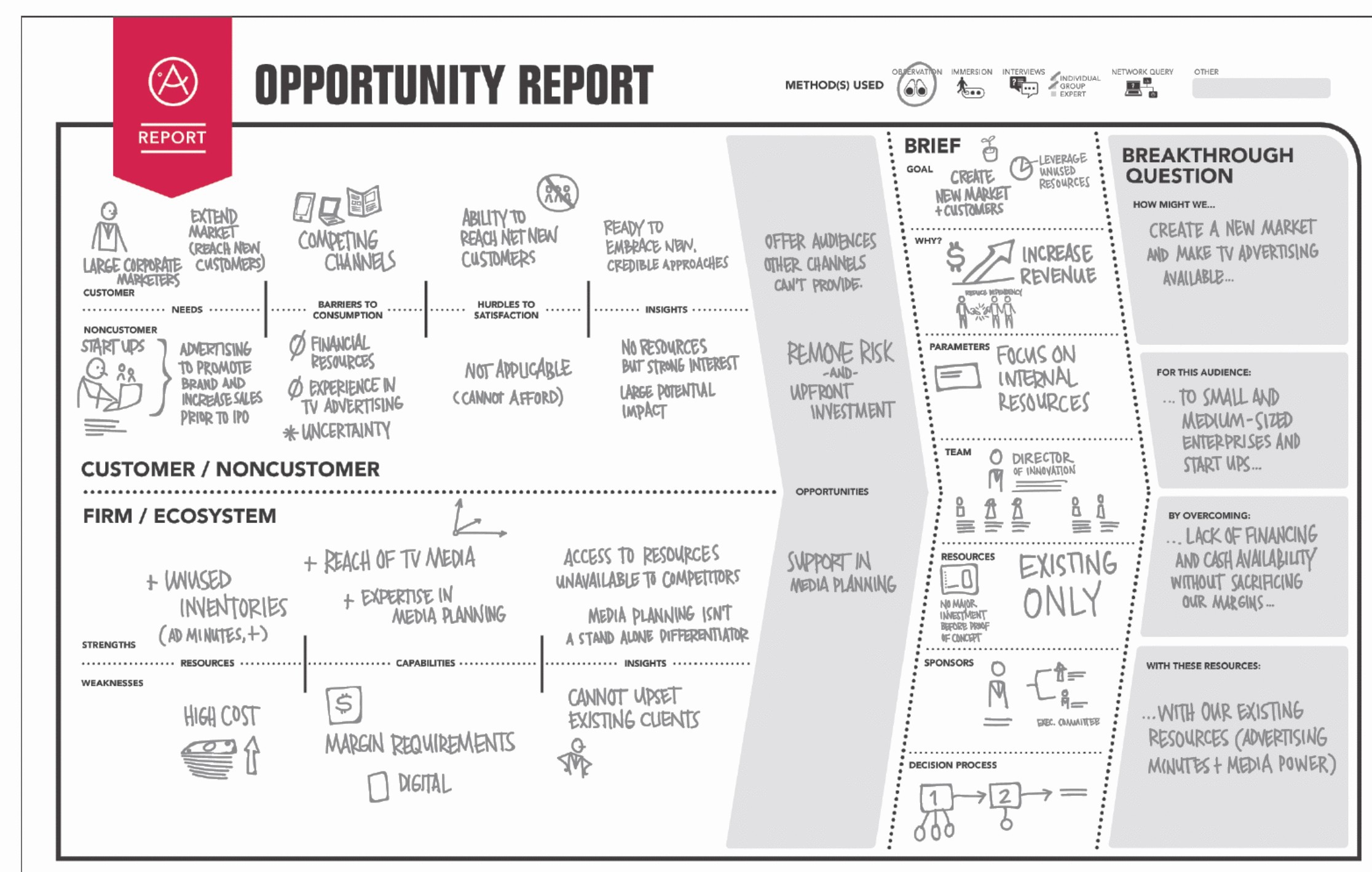 Figure 4: Opportunity Report
The Opportunity Report (Source: "The Art of the Opportunity") can help you more effectively tell your story, get input from the key stakeholders, identify barriers to consumption and hurdles to satisfaction, and refine your use case understanding before moving to the next phase. The Opportunity Report frames the IOT business opportunity from the perspective of the business and doesn't overburden the process with technology speak that is irrelevant at this point in the IOT business strategy development.
This is also an opportunity to leverage other Design Thinking techniques like storyboards and mockups to further validate the use case and gain a deeper understanding of the use case operational requirements (see Figure 5).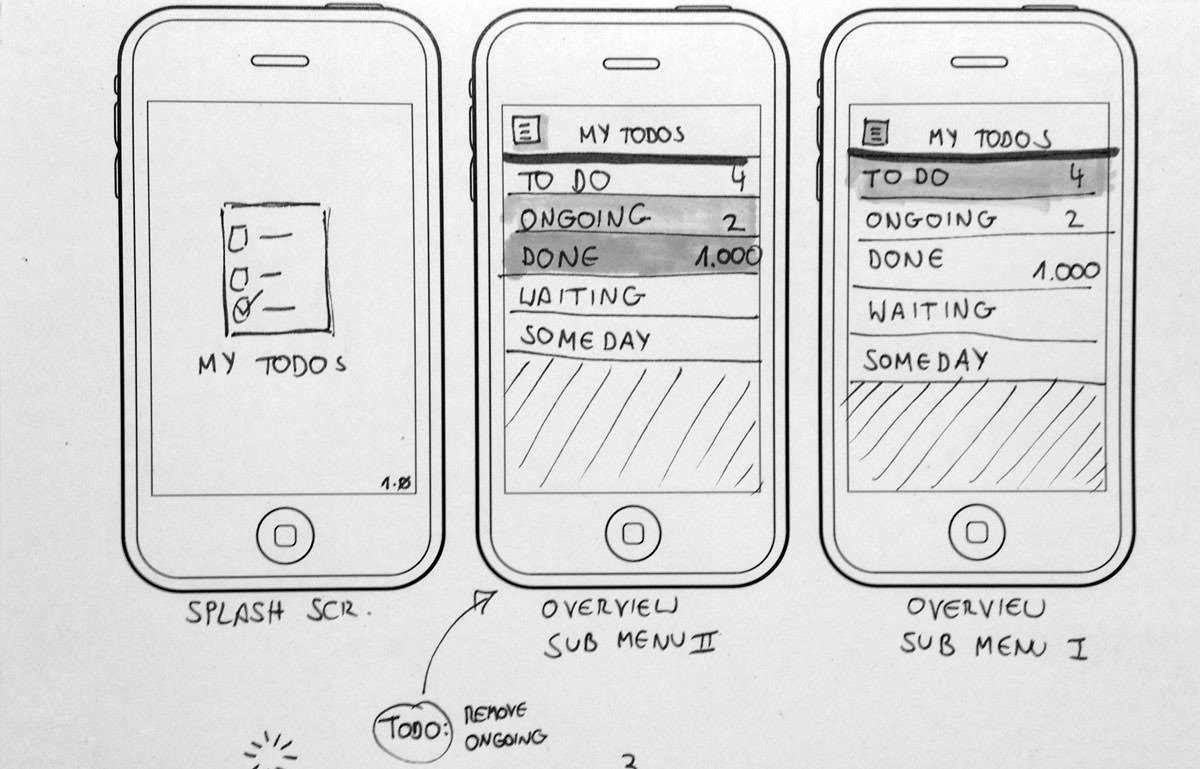 Figure 5: Image courtesy of "How to Sketch for Better Mobile Experiences"
But be careful not to overdo the mockups and storyboards. Go for quick and informal – like sketches and whiteboards. No need to program anything at this stage.
Use Case Validation Checklist:
Have you captured any corrections and/or enhancement to the use case descriptions around roles, responsibilities and pain points?
Have all business stakeholders had a chance to review the use cases and have their "voice heard"?
Have you captured some of the key decisions that the business stakeholders need to make in support of the use case?
Have you framed the use cases via something like the Opportunity Report?
Have you made use of very simple storyboards or mockups to gain further insights into the operational aspects of the use case?
Step 3: Prioritize Use Cases
The final step in developing your IOT business strategy is to prioritize the use cases from a business value versus implementation feasibility perspective. This process is critical because:
Not all use cases are equal from a business value and implementation feasibility perspective, and
Some use cases may be pre-requisites for other use cases
Figure 6 shows the Prioritization Matrix that we use in our envisioning engagements (see blog "Prioritization Matrix: Aligning Business and IT On the Big Data Journey" for more details on the workings of the Prioritization Matrix).
To learn more about our use case identification, validation and prioritization process, here's the link to our IOT Vision Workshop.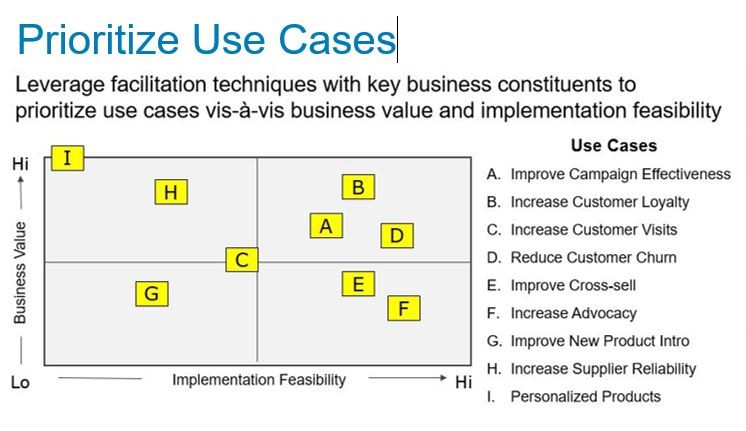 Figure 6: Prioritize Use Cases
Ideally, the output from this prioritization process is a use case roadmap since some use cases may be pre-requisites for others. For example, before you can start a customer retention campaign, one probably first needs to identify "at risk" customers and then needs to understand the "lifetime value" of each of those customers in order to decide to whom to make retention offers. Figure 7 shows an example use case roadmap created by a Precision Agriculture partner called Aglytix.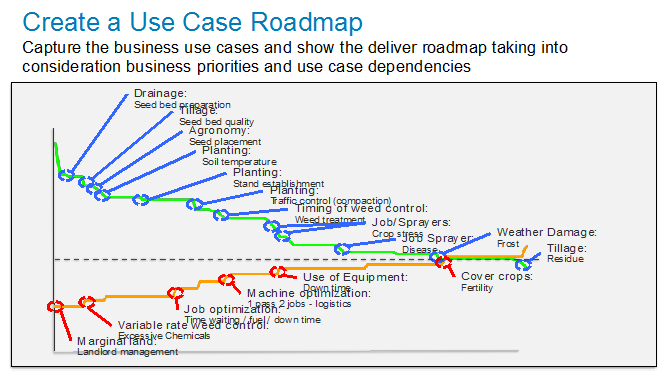 Figure 7: Use Case Roadmap (Courtesy of Aglytix)
The use case roadmap becomes the heart of our IOT business strategy.
Note: you may have to re-prioritize use cases after the completion of your first couple of use cases. Use cases of high value but low feasibility may become more feasible based upon the technology, architecture, data, analytics and applications development done to support the first few use cases. As your IOT capabilities build out, those use cases that low feasibility might start to migrate to a higher feasibility.
Use Case Prioritization Checklist:
Have you captured the prioritization from each business stakeholder of the "value of the use case to his or her organization" over the next 12 to 18 months?
Have you captured the financial or business drivers discussed by the business stakeholders in the prioritization justification process?
Have you captured the prioritization from each IT stakeholder of the implementation feasibility of each use case over the next 12 to 18 months?
Have you captured the specific implementation issues raised by the IT stakeholders in the prioritization justification process?
Have you captured all sources of disagreement and areas for further investigation during the ensuing proof of value / proof of concept stage?
Do you have business and IT consensus on which use case(s) upon which to test in the ensuing proof of value / proof of concept stage?
Have you created a preliminary use case roadmap, and reviewed the roadmap with the business stakeholders?
IOT Business Strategy Summary
There is a bounty of business use cases from which the business can choose in order to monetize their IOT efforts. However this bounty of use cases is both a gift and a curse because the best way to ensure that you don't successfully complete any use case is to try to do them all.
Organizations don't fail due to lack of use cases; they fail because they have too many.
The best approach is to build out your IOT Business Strategy is one use case at a time. In this manner, not only do you incrementally build out your IOT analytic, data, technology and architecture capabilities, but this enables the organization to build upon the work of previous use cases – to capture, share and refine the IOT data and analytic assets that are key drivers to IOT monetization.
[1] Note: there is a downside to all of these sensors from a reliability, serviceability and user experience perspective (see the blog "The Sensor That Cried Wolf").
SOURCES:
Figure 5: Image courtesy of "How to Sketch for Better Mobile Experiences"